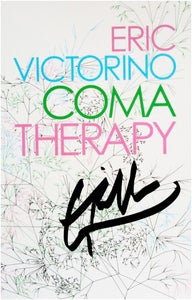 $

34.99
Coma Therapy - The first book of poetry from Eric Victorino.
First Printing Released in 2005 - Sold primarily on tour while Eric was in Strata.
This printing was thought to be out of print until a couple of boxes were discovered in storage, this is the rare first printing of Coma Therapy with cover illustration by the author. Only 1,500 copies were printed.
All copies are autographed unless otherwise requested.